The Android smartwatch market is about to get interesting
Initially expected last autumn, the word is that Android Wear 2.0 should finally be released on February 9. Google has taken more than seven months to refine its new OS for wearables. On the occasion, Mountain View could even surprise us by unveiling two new smartwatches that have been developed in-house.  This is a good way to relaunch into the smartwatch market before MWC 2017.
The new version of Android Wear is finally here
Android Wear 2.0, the mobile operating system for smart accessories, is finally going to be released. It took Google several months to review their product after the negative feedback it received from developers. Although Google had confirmed a February release to the developers to give them time to update their applications, we now know the exact launch date thanks to serial leaker Evan Blass.
Mark your calendar: Android Wear 2.0 launches on February 9th.

— Evan Blass (@evleaks) 17 january 2017
This is great news for the Android smartwatch market, as interest in Android Wear has diminished over the last few months. Despite its high-quality hardware, as we have seen with the Asus ZenWatch 3, Android Wear hasn't really evolved that much. The result: the models that were launched last year proved unsatisfactory and were totally eclipsed by the only smartwatches on the market to offer anything different: Samsung Gear S2 and Gear S3 with Tizen.
A new Interface and Play Store
With this second version, Android Wear has come back stronger, with a more seductive and modern appearance. The key new feature is that Android Wear 2.0 will finally integrate a Play Store in their smartwatches, offering users the possibility to download apps directly to their smartwatch without having to use a smartphone. This new feature is a great change compared to the operating systems on other smartwatches.
Android Wear 2.0 will finally integrate a Play Store so users can directly download apps to their smartwatch
Other than this app store, Android Wear 2.0 has also renewed their interface with a new virtual keyboard and new backgrounds. Finally, Google has renewed their fitness tracker to compete with Samsung and provide a comparable feature for its sporty users.
A revival with two new Google smartwatches
To mark the revival in the smartwatch market, Google could also announce the launch of two new Android Wear 2.0 smartwatches that they have developed internally. The marketing for these wearables was due to start at the end of 2016, but their launch was postponed because of Android Wear 2.0. Code names: Angelfish and Swordfish.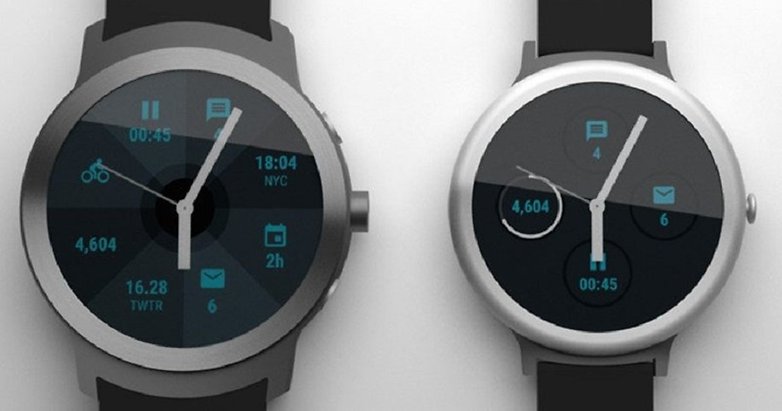 Angelfish (to the left) and Swordfish (to the right). / © The Verge
Angelfish is the biggest watch and appears to be aimed at sporty users with its 4G and GPS chips. Swordfish is smaller and, in terms of design, is reminiscent of the Pebble Time Round. Unlike Angelfish, this smaller model will be compatible with various types of bracelets. These new watches in particular act as ambassadors for Android Wear 2.0, even if they won't be labelled Nexus or Pixel. They could provide inspiration to other manufacturers that could give us a few surprises in MWC 2017.
The old smartwatch models will also benefit from Android Wear 2.0
The other interesting new feature is that Android Wear 2.0 will be available on many older smartwatch models. They'll have to wait a few weeks, but the following models will get the update: Moto 360 Gen 2, Moto 360 Sport, LG Watch Urbane 2nd Edition LTE, LG Watch Urbane, LG G Watch R, Polar M600, Casio Smart Outdoor Watch, Nixon Mission, Tag Heuer Connected, Fossil Q Wander, Fossil Q Marshal; Fossil Q Founder, Michael Kors Access Bradshaw Smartwatch, Michael Kors Access Dylan Smartwatch, Huawei Watch, Huawei Watch Ladies, Asus ZenWatch 2 and Asus ZenWatch 3.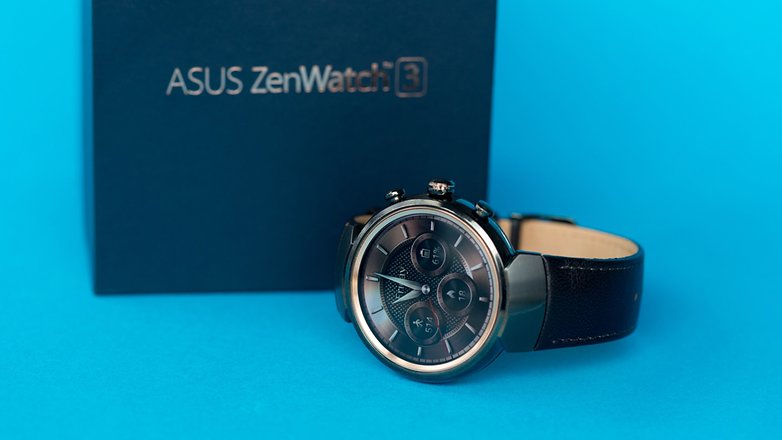 The ZenWatch 3 will benefit from Android Wear 2.0. / © AndroidPIT
Do you think that Google can give a new lease on life to the smartwatch market with Android Wear 2.0? Are you looking forward to seeing what they unveil next month?